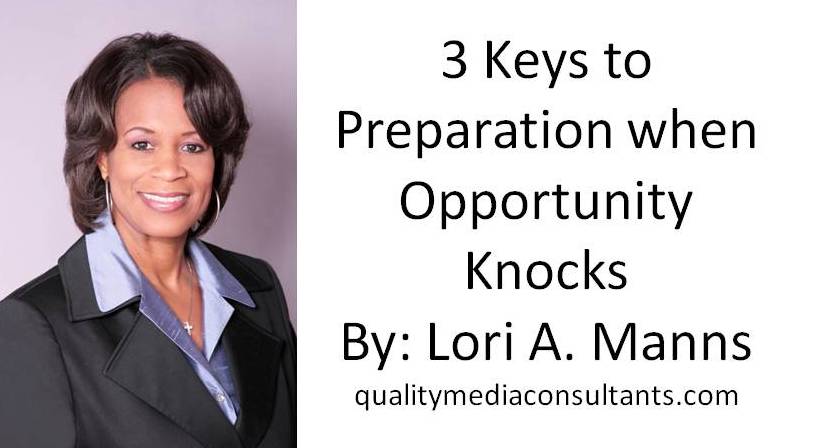 Many entrepreneurs start businesses with the dreams of one day making it big or being what they consider to be successful. The key to success is that there is no key to success. There is no single one thing that can make you successful rather a combination of doing the right things and learning from doing the wrong things. No one can fully advise you on best practices for you, they can only tell you what worked or didn't work for them. The key is planning, navigating the process of growth and preparation. Preparation is the key to accomplishing anything in life and most definitely business. How might one prepare for success in business? Below I've outlined 3 key ways that will help you to  be more prepared when opportunity knocks.
Goal Clarity
When you're crystal clear on your goals, it allows you to maintain focus. There is power in clarity and not allowing distractions to derail your plans and goals. Knowing what you want to accomplish is going to help you determine the path to get to the end game. Remember if you don't know what you want, no one can help you get there. Having a clear goal in mind will enable you to map out the steps you need to take to achieve that goal.
Determine what you want to achieve in your life, in business and overall. What does a happy and fulfilling life look like for you? What does a profitable and productive business look like for you. If you have not taken the time to answer these questions, you will not be able to achieve your goals.
Establish Success Rituals
There is something to be said for consistent action toward your goals. First, you must determine what you deem as success. Ask yourself, "what does success mean to me?" If you had to write a term paper about how to be successful, what would you write? Success means different things to different people. Therefore, in order to become successful each person has to be willing to make daily, weekly and monthly sacrifices to achieve success. The success rituals you need to incorporate in your schedule are going to depend upon your goals. You may  need to attend a certain number of events or call a certain number of people each day. Whatever it is, make sure you make a commitment to making it happen. Taking action on a consistent basis will help you achieve your goals faster and easier. Remember it is a lot easier to eat a steak piece by piece rather than choking while attempting to eat it in one bite.
Most successful people will tell you that they have daily habits that have contributed to their success. Those daily habits could be anything from reading, exercising to meditation. However, the ritual may be different for everyone but the point is, every successful millionaire or billionaire has success rituals.
Practice Makes Progress
There is no such thing as a perfect success path. The road to success is full of twists, turns, valleys and hills. No one can give you the short cut toward your goals either. You have to be willing to make mistakes along the path toward achieving your goals. The important thing to remember is that you need to continually practice your craft. Whatever it is you want to do, practice regularly. If you want to write a book, practice writing. If you want to speak in front of people, practice speaking in front of family or friends or professional speaking group. Whatever you want to accomplish, decide what your practice schedule will look like. You'll be better prepared when and if a bigger opportunity arises, if you've been practicing all along.
The goal is not to be perfect. The goal is to progress at every stage in the game. No matter where you are in your success journey, the key to to be better today than you were yesterday.
Opportunity is what all of us want in some form or another. As business owners, we want the opportunity to impact more people, serve more people and sell to more people. For many, the success lies in reaching more people. When it comes to the opportunity game, there is nothing that will equip you more than preparation. Being prepared involves understanding your goals, establishing success rituals and making consistent progress. If you start there, you'll be further along than most.
Now I'd like to hear from  you. What's your opinion about best ways to be prepared when opportunity knocks?
© 2017 Quality Media Consultant Group LLC – All Rights Reserved
This article was written by Lori A. Manns.  Want to use this article on your blog or website? Here's the author credit you must include.
Lori A. Manns is an award-winning marketing expert, sales coach and trailblazing business strategist who works with small business owners to help them elevate their brand, get more dream clients and grow revenue. Lori is President of Quality Media Consultant Group and founder of the Trailblazer Business Mastermind and Trailblazer Business Academy and where advancing entrepreneurs go to learn growth strategies and how to run a profitable business the soulful way. Lori is the creator of the Sponsorship Sales Secrets System™, which shows clients how to get more sponsors and sales for their business, guaranteed. To learn more about the work Lori does to help business owners and entrepreneurs all across the U.S. to accelerate their revenue and succeed in business, visit www.qualitymediaconsultants.com