Love or hate them, if you're breathing, you're going to have a birthday every year.  Birthdays mean different things to different people. Some people go all out to celebrate their birthdays and others act as if it is just another day. The key to enjoying your birthday is to spend it exactly the way you want to; whether that means with those you love and care about or all by your lonesome.
The thing is, it doesn't matter how many birthdays you've had, age is nothing but a number. The question is, what are you learning as each birthday comes and goes? How have you changed your life for the better? How have you impacted other people's lives for the better? Has your existence on the planet made a difference in a meaningful way? I guess the big question is, "are you living a life of meaning?"
The older I get, I ponder the above questions, more and more.  I think about my life and what I want to be known for.  And that is exactly what I'm suggesting that you do as well. After all, if we're not making every moment count what is it all for? I'd like to submit to you that it's time to pay attention to the lessons we learn with each passing birthday.
As I celebrated another birthday this year, I began to think about lessons I've learned. It's hard to pick just 3 lessons and list them as the most important, so that's not what this list is.  However, I'm offering 3 big lessons to help you get the most out of the days that fall between each birthday you have and help you live your best life.
Listed below is my brief list of 3 big ideas on how to maximize the time between birthdays.
Live life on your own terms – This idea is so simple it's almost embarrassing to mention it. However, the simplicity of the concept of living your life on your own terms is something many people struggle with. A lot of people live their lives to get approval from others whether it's their parents, spouse, siblings or friends or co-workers. Human nature conditions us to want others to validate what we're doing. And the need for that validation sometimes causes us to live to please other people over ourselves.  I'm not suggesting that we should live selfishly and disregard the needs of those we care about. I'm simply saying that the basis of your life should be about what makes you feel whole, complete and fulfilled; not someone else.
I like the way Steve Jobs put it when he said these words:
"Your time is limited, so don't waste it living someone else's life. Don't be trapped by dogma; which is living with the results of other people's thinking." Steve Jobs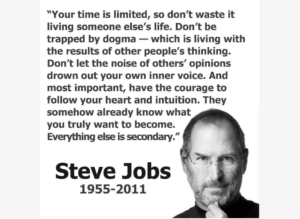 Pursue your dreams with passion and conviction – It doesn't matter what you're doing, if you don't have any zeal or excitement for it, eventually you will stop doing it. Passion is not something you can learn. You either have it or you don't. Therefore, if your dreams don't excite you, you need new dreams. If your goals don't motivate you, you need new goals. The fire that burns inside of you, must be fueled by something big – something bigger than you. Realizing what your driving force is, should lead to your passion.
At times, I've heard different people say they don't have any passions or anything that moves them. I truly think those people have not taken the time to analyze themselves enough. I believe every human being has one thing or multiple things that they enjoy doing and would like to figure out a way to get paid for it. Your job is to do some serious soul-searching o figure that out if you don't already know. On the contrary, if you already know what your passion is, the next step is to commit to it with strong conviction.  My belief is that you should do everything with passion or not at all. Because how you do anything is how you do everything.
I like the way Dr. King put it when he said these words:
"Be a bush if you can't be a tree. If you can't be a highway, just be a trail. If you can't be a sun, be a star. For it isn't by size that you win or fail. Be the best of whatever you are." Dr. Martin Luther King Jr.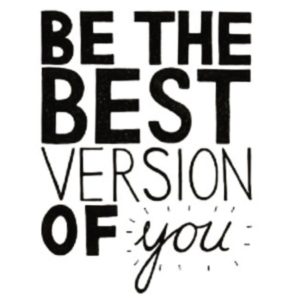 Don't ever give up. Ever. – Here's another very simple concept of not quitting. Yet many people quit before their big break or breakthrough. It doesn't matter if you're a business owner or a corporate executive, if you've found that thing that you enjoy doing but you've hit a bump in the road, keep going. Bumps in the road are proof that you're trying. Failure will happen, which means it is an option but it's not the end. Failure doesn't mean stop and quit; it means pause and reassess your next best move.
I like the way Winston Churchill put it when he said these words:
"Success is not final. Failure is not fatal. It is the courage to continue that counts." Winston Churchill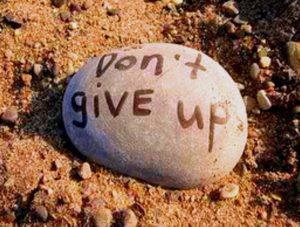 As you can see, my big birthday ideas have a lot to do with personal development and mindset. I truly believe that we can lead more fulfilling lives and enjoy more rewarding careers and business ventures, if we subscribe to these lessons.
What do you think? What would you classify as your biggest birthday lessons so far? I'd love to hear from you.
© 2017 Quality Media Consultant Group LLC – All Rights Reserved
This article was written by Lori A. Manns.  Want to use this article on your blog or website? Here's the author credit you must include.
Lori A. Manns is an award-winning marketing expert, sales coach and trailblazing business strategist who works with small business owners to help them elevate their brand, get more dream clients and grow revenue. Lori is President of Quality Media Consultant Group and founder of the Trailblazer Business Mastermind™ and Trailblazer Business Academy and where advancing entrepreneurs go to learn growth strategies and how to run a profitable business the soulful way. Lori is the creator of the Sponsorship Sales Secrets System™, which shows clients how to get more sponsors and sales for their business, guaranteed. To learn more about the work Lori does to help business owners and entrepreneurs all across the U.S. to accelerate their revenue and succeed in business, visit 
www.qualitymediaconsultants.com