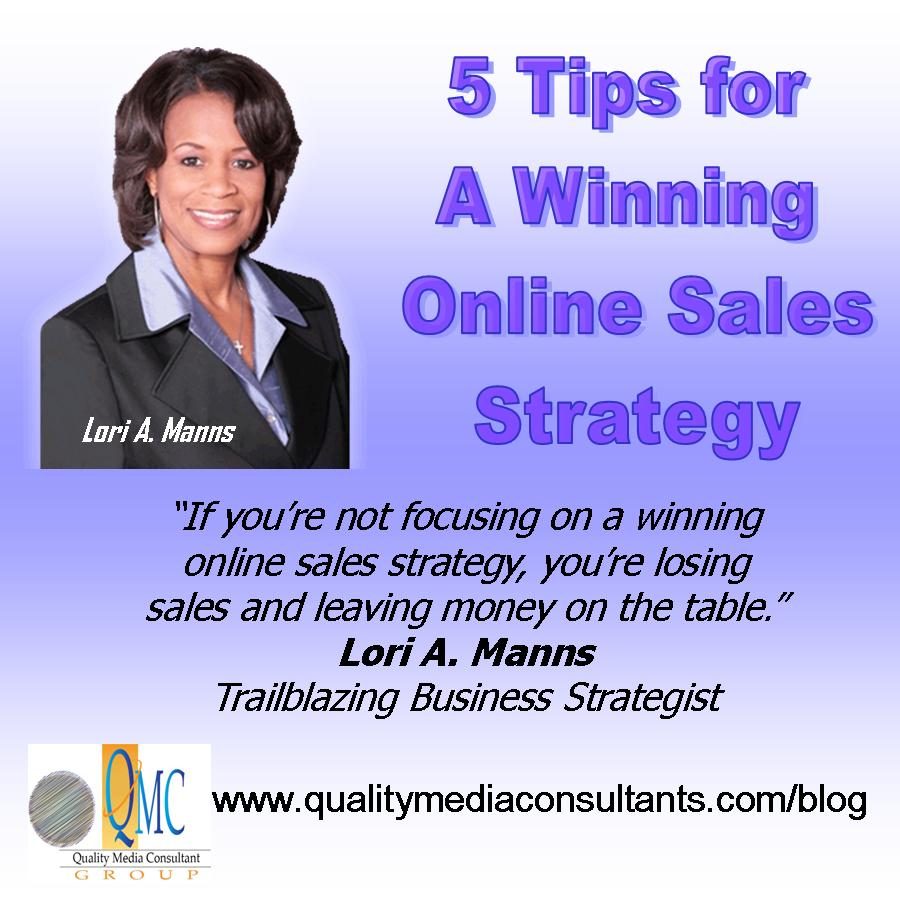 It's time to accept the fact that online shopping is here to stay. Many people prefer to physically walk into a business, storefront or shopping mall to make their purchases. However, millions of people are content to shop with the click of a button and have any and everything delivered straight to their door with little to no hassle. E-commerce is necessary for a winning online sales strategy.
Trends are beginning to show just how powerful online shopping really is. Below, I've listed 5 simple tips that will help you develop an effective, productive and most importantly, a winning online sales strategy.
1.Ramp up your email marketing  Data shows that email generates the highest return on investment for marketers if done properly.  Email marketing allows you to publicize your online products and services in a way that is inexpensive and very effective. The technology continues to improve when it comes to digital marketing tools and tactics. However, email remains constant. Why? According to Research, for every $1 dollar spent, email marketing generates $38 in ROI.
2. Improve the mobile shopping process – These days most people have smartphones and tablets. People are on the go and typically carry a smart device with them. Now more than ever, people are using smartphones to do a myriad of things, one of which includes making purchases.  If you don't have an online product your business will be left behind. Additionally, if you have not optimized your mobile shopping process, you may lose customers. Forrester data shows that mobile commerce is expected to account for as much as $500 billion in online sales.
3. Use convenient payment methods – A very critical component of online shopping success includes accommodating digital wallets. More and more people prefer to pay without exchanging cash. If your business accommodates digital wallets, you will undoubtedly have an advantage over the businesses that have not joined the new age technology of digital commerce. Many online shoppers use services such as Amazon Pay, Google Wallet, Stripe and PayU.
One big advantage of adding digital payments is that the process of checking out is typically faster and seamless. The last thing you want to do is lose a customer because your payment method is too long and frustrating. Don't worry, industry data shows that most companies have secured their digital payment methods to give their customers peace of mind. Remember, it's probably better to pay with a credit card than a debit card. Many third party payment services offers some "buyer protection" when it comes to making on-line payments. Simply add a convenient payment method and get the sale done easier and quicker.
4. Promote your online sales products via social media – Next to email marketing, social media offers you a great opportunity to publicize  and promote your products and services for a very affordable cost. Whether you're using a photograph, flyer or a simple buy button, social media can drive interaction and increase sales for your digital products and services. The key is to create social friendly images. Buffer's Pablo allows you to select from over 600,000 royalty photos and or upload your own, which is great for product pictures. When using Pablo, you can choose your own filter, template, font etc. And the best part is no registration is required.
5. Monitor conversations from your fans and followers – The internet provides business owners with a unique capability to communicate with your customers, fans and followers. No longer do you have to wait for a long market research survey to understand what your customers want or need. You simply have to tune into what they are saying on line. Your customers are going to give you feedback on line especially if you ask for it. So get ready to converse with them and by all means respond to their questions, comments and queries. 
Most social media platforms provide you with insights to show the level of engagement from mentions and comments to time periods when more people are interacting with your brand. Pay attention to this material as it will prove very beneficial when reviewing the effectiveness of your online sales promotions.  If you're looking for a professional, third party resource to help you monitor your brand online, consider Talkwalker; It monitors what's happening on all social channels and online media in real-time, on all markets, in 187 languages.  You can track your brand awareness and message impact on a global basis.
In closing, electronic commerce aka E-commerce is not going anywhere. You have to learn the basics of promoting your business online in order to continue to grow and experience success. Having a winning online sales strategy means you are learning to master the art of social selling. Don't get all weird about the concept of selling socially because it's not sleazy or grossly slick to learn how to make money by learning to optimize your on-line skills. If online advertising didn't work, people would not be making millions and in some cases billions doing it. It's time you jumped on this gravy train and optimized your online sales strategy so you don't get left behind.
© 2017 Quality Media Consultant Group LLC – All Rights Reserved
This article was written by Lori A. Manns.  Want to use this article on your blog or website? Here's the author credit you must include.
Lori A. Manns is an award-winning marketing expert, sales coach and trailblazing business strategist who works with small business owners to help them elevate their brand, get more dream clients and grow revenue. Lori is President of Quality Media Consultant Group and founder of the Trailblazer Business Mastermind™ and Trailblazer Business Academy and where advancing entrepreneurs go to learn growth strategies and how to run a profitable business the soulful way. Lori is the creator of the Sponsorship Sales Secrets System™, which shows clients how to get more sponsors and sales for their business, guaranteed. To learn more about the work Lori does to help business owners and entrepreneurs all across the U.S. to accelerate their revenue and succeed in business, visit 
www.qualitymediaconsultants.com