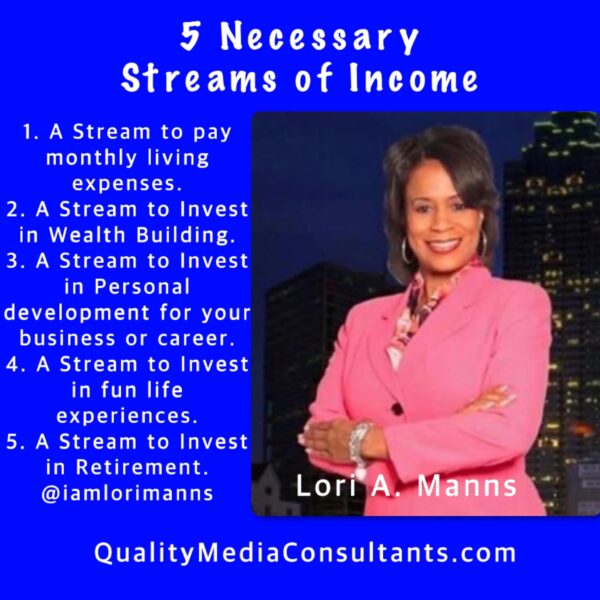 As business owners, we reach our money goals because we have a S.M.A.R.T. plan to increase revenue and cash flow. A smart plan is one that is strategic, measurable, attainable, resourceful, and time-bound.  A smart plan involves having multiple revenue streams that will support our businesses as well as our lifestyle. What is a revenue stream you ask? To describe it simply a revenue stream is any form of a profit center that brings money into your business. Revenue streams can either be transaction-based or service-based.
There are probably many revenue streams that would allow you to have a profitable business and comfortable lifestyle. However, listed below are the five main revenue stream classifications that I believe are necessary for success.
#1 – A revenue stream that pays your monthly living expenses.
#2 – A revenue stream that invests in wealth building.
#3 – A revenue stream that pays for personal or career development and growth.
#4 – A revenue stream to invest in fun life experiences.
#5 – A revenue stream to contribute towards retirement expenses.
NOW that you KNOW the CLASSIFICATIONS of the 5 necessary revenue streams you need.  Here are 5 TYPES of the TOP Revenue Streams to consider:
1. Selling Assets – Asset sale is the most commonly used revenue stream in business today. Selling assets simply means you sell a product or a service and someone buys it. Once purchased, they can do with the product whatever they please or not use the service if they so choose. Asset sale is also common in corporations when one company acquires another company or forms a merger with a new company.
2.  Subscription Fees – This revenue stream is based on providing your target audience ongoing access to your products or services on a monthly, quarterly, or yearly basis. Subscription-based revenue streams are great for the business owner because the cost to produce them is so low. The subscription base model can be as low as $7 per month or as high as $99 per month. Either way, if the monthly rate is less than one hundred dollars, most people don't think twice about it if they feel they are getting value. However, if you are subscribing to subscription services, be mindful that these fees can add up. If you are on a budget, using several subscription-based services can actually add up to thousands of dollars in expenses per year.
3. Advertising Fees – This revenue stream makes you money because you take in fees for advertising a company, brand, product, or service on your online or offline property such as your website or inside your physical building.
4. Sponsorship – Sponsorship is based on selling rights, privileges, or assets to a third party. The money provided in a sponsorship deal is given by one company to support a person, organization, activity, event, or entity. The sponsorship is often in exchange for a partnership that includes advertising, brand exposure, or other mutually agreed upon assets.
5. Leasing or Renting – Using leasing or renting as a revenue stream involves allowing someone exclusive access to your assets for a limited amount of time. Your assets could be a physical building, supplies, or equipment that you rent out. Although this revenue stream works well for companies like The Home Depot and Lowes, this revenue stream may also work for eCommerce companies. For example, Rent The Runway allows its customers to rent designer clothing.
As you can see, there are many options to choose from when it comes to bringing revenue into your business. The main thing to remember is that you must choose the best revenue stream that is going to work for your needs. Here are some questions to ask yourself before selecting a revenue stream.
A. Does this revenue stream provide a healthy profit?
B. Is this revenue stream scalable?
C. Is this revenue stream a good use of our employee time?
D. Does this revenue stream provide a unique advantage for our business?
E. Is there a demand with our target audience for this revenue stream?
After you take the time to answer these questions, you will be in a better position to choose the best revenue stream for your business and lifestyle.
Want to use this article for your blog or business website? Here's the author's box that you must include.
© 2022 Quality Media Consultant Group LLC – All Rights Reserved
This article was written by Lori A. Manns. President of Quality Media Consultant Group.  Lori is a multi-award-winning marketing mentor, sales coach, and trailblazing business strategist who works with small business owners and entrepreneurs to help them grow and scale their businesses. She specializes in sales and marketing strategies that result in her clients attracting their target market, gaining brand visibility, and growing revenue. Lori is President of Quality Media Consultant Group, a consultancy firm specializing in media, advertising, marketing, and sales. She is the founder of the Trailblazer Business Academy. where advancing entrepreneurs go to learn growth strategies and how to run a profitable business the soulful way. Lori is also the creator of the Sponsorship Sales Secrets.