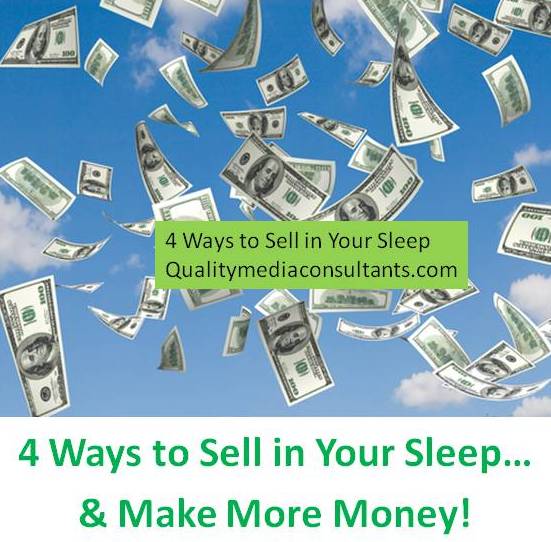 There use to be a saying: "make your money, make you money." As a young adult, I can remember hearing this statement and thinking, "I wonder what would be the best way to have money that earned money?" After entering into the workforce, I realized that when your money makes you money, it's working for you so you don't have to work so hard for it. The same is true in business. As entrepreneurs, we must learn how to make our products and services work for us. Quite simply this translates into learning to sell while you sleep.
One of the best things about being an entrepreneur or small business owner is the ability to create products and services one time that bring residual revenue. An entrepreneur's dream is to have several revenue streams that are profitable and various ways to make money. If you're like me, you enjoy making money while you sleep. However, in order to make money while you sleep you must sell while you sleep. Of course this simply means that you must have a platform and methodology for selling items without having to physically see or speak to anyone. Below, I've listed 4 ways to Sell In Your Sleep.
Sell Advertising on your website – If your website garners enough traffic that can be measured and quantified, you can begin selling advertising to people who are trying to reach the same audience that you offer. You could post photos of ad types, costs and add a shopping cart for purchases.
Create and Sell an Information Product – The market for information products is at an all time high. People are hungry for information. With the surge of the Internet in the 21st century, many seek answers to questions both, common  and complex. Therefore if you offer an ebook or white paper on topic that is of interest to a specific group of people and market that item to them consistently, you will surely sell something.
Become an affiliate marketer – This is where you promote other peoples products and services on your website. The catch is that it must be relevant to your audience and make sense. For example: a virtual assistant could pitch a paper company or office supply company. The opportunities to become an affiliate are unique because it's all based upon what will work best for you, your audience type and how much traffic your website or blog receives.
Start a membership community – This is where you group people together for the purpose of one common goal. The catch is that you must offer tangible results and outcomes for membership to keep people engaged and committed to the membership. The idea is to have a landing page that attracts a particular person to your community and sells them on the advantages of participating. A membership portal could handle payments and be offered via your website.
As you can see, all of the above ideas involve creating an opportunity for you to make money without having to physically see or speak to anyone. For each item listed, a business owner could have automated email messages, landing pages and websites to do the job of selling each item.
How can you use the concept of selling in your sleep to grow your business? I'd love to hear your two cents. Leave me a comment or question below.
© 2017 Quality Media Consultant Group LLC – All Rights Reserved
This article was written by Lori A. Manns.  Want to use this article on your blog or website? Here's the author credit you must include.
Lori A. Manns is an award-winning marketing expert, sales coach and trailblazing business strategist who works with small business owners to help them elevate their brand, get more dream clients and grow revenue. Lori is President of Quality Media Consultant Group and founder of the Trailblazer Business Mastermind and Trailblazer Business Academy and where advancing entrepreneurs go to learn growth strategies and how to run a profitable business the soulful way. Lori is the creator of the Sponsorship Sales Secrets System™, which shows clients how to get more sponsors and sales for their business, guaranteed. To learn more about the work Lori does to help business owners and entrepreneurs all across the U.S. to accelerate their revenue and succeed in business, visit www.qualitymediaconsultants.com