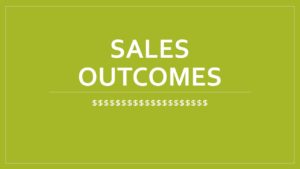 Every sales situation is different. Every salesperson is different. The sales process for products varies from the process to sell services. Most business owners would agree that selling anything has its nuances and sales can be tough to predict at times. However, in nearly all sales situations, there are several factors that can and will influence the outcome of the sale. I would like to suggest that there are four "P's" that effect the sales process. Below I've listed the 4 factors that begin with the letter 'P' that you should be aware of as you go about selling your products and services.
Price
The price of a product or service directly influences the buyer. It stands to reason that low-priced products or services do not have a perceived high value. And to the contrary high-priced items have a higher perceived value. Studies have shown that when people perceive an item to be more valuable it is typically the higher priced option. Considering this perspective, it makes sense to do price comparisons when it comes to your products and services to ensure that you are not offering the lowest price in your industry or niche unless that is your brand promise. The bottom line is that price is the conveyor of value when it comes to your products and services. Therefore, price accordingly.
Perception
The opinions held by your prospective customers and clients are their perceptions. Those perceptions are derived from the messages you deliver and your brand image. Your brand is going to attract a certain type of person or group of people. No matter how you classify your business, the manner in which people perceive you will drive your brand one way or another. Whether you have clarified your target market or not, based on the messages you communicate to the public, your company will attract a certain audience. Therefore, it is critical that you manage the perception of your target market by steering their beliefs in the direction that drives a positive perception about your brand.
Packaging
Packaging has everything to do with appearance. You may have heard the saying; "people buy with their eyes first." This saying simply refers to the fact that we like to buy what looks visually appealing to each of us.  You've probably also heard the saying that beauty is in the eye of the beholder. It simply means that different looks are going to be appealing to different people in different ways. The point of your packaging being visually appealing it simply going to aid you in the sales process. If you're selling a service, your packaging is you as well as the way you present the services you offer and the collateral materials you use. If you're selling a product, your packaging is going to attract a specific person based on the colors, style and design you use. People like to buy things that are attractive to them from people they perceive to be attractive.
Personality
Your personality has a lot to do with your character, qualities, aura and style. Every person has their own unique personality. No two people have the same identical personality even if they are born an identical twin. The personality of an individual can help or hurt a sales situation. If a person is a natural introvert with a very shy and secretive aura, those qualities do not bode well for an ideal sales person. However, on the contrary if a person is a natural extrovert with a vibrant and transparent aura, those qualities are more beneficial as far as an ideal sales person. The main factor in sales is to build trust with the audience. If the prospective customer finds the seller's personality to be offensive in any way, they are less likely to buy.
As you can see the above factors all start with the letter "p" and in one way or another can either positively or negatively affect the outcome of a sales situation. What's your take on these often unspoken and understated, yet viable factors that can either help or hinder in the sale process? Now I'd like to hear from you. Leave a comment below.
© 2017 Quality Media Consultant Group LLC – All Rights Reserved
This article was written by Lori A. Manns.  Want to use this article on your blog or website? Here's the author credit you must include.
Lori A. Manns is an award-winning marketing expert, sales coach and trailblazing business strategist who works with small business owners to help them elevate their brand, get more dream clients and grow revenue. Lori is President of Quality Media Consultant Group and founder of the Trailblazer Business Mastermind and Trailblazer Business Academy and where advancing entrepreneurs go to learn growth strategies and how to run a profitable business the soulful way. Lori is the creator of the Sponsorship Sales Secrets System™, which shows clients how to get more sponsors and sales for their business, guaranteed. To learn more about the work Lori does to help business owners and entrepreneurs all across the U.S. to accelerate their revenue and succeed in business, visit www.qualitymediaconsultants.com