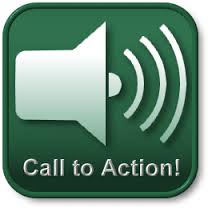 Being smart about growing your business means you should have a plan of action. Being smart about marketing your business means that you should have a call to action included in every strategy you utilize. Having creative and effective call to actions in your marketing will definitely help you attract more clients. The most important thing you can do in your marketing is to have an effective call to action. A call to action is the most desired response that you want your target audience to take.
If you don't ask your prospects to respond or react to what you are putting out there, chances are they will do nothing. The act of eliciting a response is critical in your marketing efforts. Let's take a look at 3 reasons why a call to action is critical to attracting more clients and therefore growing your business.
1. A call-to-action encourages the target audience to respond in an ideal manner. The premise of having a call to action is to illicit a response directed at driving traffic or increasing sales. You must focus on what the most desired response is that you want the viewer, reader, listener to take and position your offer to encourage them to take the appropriate steps toward that action. Simply put, tell them what's in it for them.
2. A call to action directs the audience to focus on a concentrated area. The most important thing to remember about focus is to reduce the number of choices that you want the people to consider. By limiting the number of choices your prospects has to make you eliminate overwhelm, mental effort and ultimately the frustration of having to make too many decisions. Be certain that your call to action is short, simple and intriguing.
3. A call to action provides a measurement for effectiveness and success. When determining the success of your marketing and advertising campaigns, you must consider how well your call to action grabbed the attention of your target audience. Whether you are marketing on-line or off-line you must determine, how many responses your call to action received over a specific amount of time and whether your results were satisfactory. Whatever the action is that you want people to take; for example, click here, join me, register here or buy now, the total number of responses you received or total actions taken will give you a good indication regarding the effectiveness of your call to action. If your goal was to obtain one hundred responses and you only received twenty-five, you may need to make some adjustments. It's important to measure and test various call to action offers to determine what works best.
Your assignment is to create a call to action for every page of your website. Remember to consider the most desired response that you would like your visitors to take and craft an offer that is most likely to elicit the most desirable response.
© 2013 Quality Media Consultant Group, LLC – All Rights Reserved
This article is written by Lori A. Manns. Want to use this article for your website, blog or newsletter? No problem. Here's what you must include: Lori A. Manns, CEO of Quality Media Consultant Group your marketing and sales success mentor, and founder of Marketing For Trailblazers™  & ABC's of Successful Sponsorship Sales System;™  that shows you how to get more sponsors and sales for your business, guaranteed. To purchase consulting  services on marketing, advertising or sales and, learn how to increase your revenue and grow your business; please visit www.qualitymediaconsultants.com.