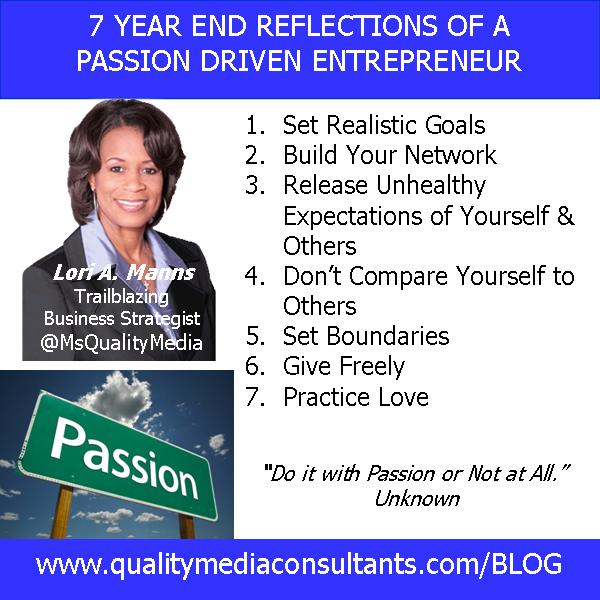 It's the end of the year, and as always I take time to reflect on experiences and the lessons that went along with them.  Of course, many of my reflections are things I already knew. However, life has an interesting way of presenting the same lesson again and again until you've passed the test. The more you learn the more you grow. It's never too late to learn something new or review an old lesson. As I continue to grow through life and in my business, I am shifting my mindset. I believe it is important to operate from the inside out. You can not live your life out loud if you never stop to analyze what's inside of you and where it comes from.  It's a proven fact that your inner being, manifests through your actions, behaviors and deeds.  As an entrepreneur, you will go through seasons when things are up and down. There is no straight line to success and definitely no elevator to get to the top.  You must climb step by step.
I've found that entrepreneurship requires courage, faith and fearless living.  Below, I'm sharing 7 reflections that I believe every entrepreneur should consider at the end of the year as well as throughout their journey.
Once you analyze and consider how well you did (this year) in each of the areas below, I think you'll find some important reminders about personal, professional and business growth.
1. Set Realistic Goals.  We see this one all the time. Make your goals S.M.A.R.T.  The acronym stands for smart, measurable, attainable, realistic and time. Jim Rohn gives a great definition of these kinds of goals on Success.com. The question is, do we really analyze what is realistic when we are setting our goals? Perhaps we just write out everything we've ever wanted to do and expect to get it done in the span of a few months or within a year. That is not always possible, practical or realistic. Ask yourself: how much of what is on your list and you really get done in 12 months. It's important to prioritize and determine, what your next best move should be.
The fact is,  you can do anything but you can't do everything. Streamline your goals to what you desire most. Pick 3 things. Keep it simple. If you do more, great. But at least you won't over extend yourself.
2. Build Your Network.  You've already heard how important it is to have people around you to help you get to the next level, but are you actively surrounding yourself with those people? It's time to grow your network. Make sure you align yourself with a mentor who is already where you want to be. I have some amazing business buddies that I network with and collaborate with. However, I realize this is an area where I need more attention.  That's why I am going to be intentional about building my network in the new year. How about you?
3. Release Unhealthy Expectations of yourself and other people.  It's so easy to become disappointed when things don't turn out the way you had hoped. However, whether it's in your personal life or in business, when you have no expectations you are not hurt or disappointed. Now I'm not talking about contractual obligations in which someone is required to hold up their end of the bargain. I am talking about simple things like getting a return phone call or email.  I was once told by one of my clients that they didn't follow up on a lead because the prospect didn't return their phone call. I quickly told my client to stop expecting people to have the same perspectives that you do. If you think it's rude to not return a call that doesn't mean someone else shares that same belief. Perhaps they just got busy. It's easier to pick up the phone and say, "I'm not sure if you got my last message or not so I'm calling again just in case." Most times, the person will apologize and say they just didn't get around to returning the call yet. The key point to remember is not to assign your expectations and perceptions onto other people.
4.  Don't Compare Yourself to Others.  No matter where you are in your life, if you are still alive you're not at the end yet. There's more to life to live. And since you only get one life, it's smart not to spend your time comparing your life to someone else's.  One of the traps about comparing yourself to other people is that you are not comparing apples to apples. When we compare ourselves to others, we are always comparing apples to oranges and that's not helping anyone, nor is it productive. The problem with comparison is that you may be comparing someone's life or business to yours, when they are in chapter 10 and you're in chapter 5. You're not there yet. So go at your own pace.  As long as you grow through what you go through, you will be fine.
5. Set Boundaries. As an entrepreneur, it's easy to get stuck in a rut of work, work, work and more work. If you're the type of business owner who works around the clock, you probably have customers and clients who call you around the clock. It's important to set healthy boundaries around your schedule. If you don't take time for yourself, you will feel out of alignment. Your life will not feel balanced and you will constantly operate  from a deficit. The truth of the matter is that you can not pour from an empty cup.
It's important to get rest  and take some time to enjoy the fruits of your labor. Don't brag and boast about not getting any sleep. You're human. Humans need sleep and rest to function properly. Once you develop healthier boundaries in your life and business, you will be happier and healthier too. Of course the result of setting boundaries is that we become more productive in every area of our lives.
6. Give freely. I believe there is power in giving. There is even greater power in selfless giving…not expecting anything in return. Whenever you give freely and selflessly, you are planting seeds that will eventually harvest.  In life and in business it is important to help others. The fact is, you never know when you will need help yourself. If you have been a person who freely gives of your time, talent and resources to help other people, you best believe that karma will work in your favor at some point in your life. Giving can be very simple. There are many ways to give. In the business community, you can share a business tip with another business owner or invite someone to an event that may help them. In your personal life, you can volunteer in your spare time with a local charity. It doesn't matter what or how you give, but it does matter if you give authentically and selflessly.
7.  Practice Love. I am suggesting that you practice love because it doesn't always come easily.One of the most complex words in the English language is love.   Yet love can also be so very simple. Many people don't use the word love in business because they think it may be inappropriate. However, love is an emotion and human beings are emotional creatures. The human beings that run companies, need love.
The fact is, we all buy things that we love from people we love.  First comes like, then comes love. Have you ever visited a restaurant and told a friend, "I love their food" or,  "I love that place"?  I bet you have. You used the word love without a second thought. You used the word love because that restaurant and/or the people who worked there, evoked an emotion inside of you that was favorable and memorable. You loved it!
I truly believe it is acceptable to use the word love in business. I want my clients to love doing business with me. I want them to happily refer me and my company to others. I want my clients to understand that I do this work not because I have to but because I want to. I love what I do. I love my clients. My work matters to me and so do my clients.
Even though my love for people has caused me to be taken advantage of at times, I still love freely both in life and in business. Because that is who I am. Now that's not to say that I haven't learned some hard lessons. However, I refuse to allow the shortcomings of others to change the essence of who I am. I will simply grow from every experience.  I commit to continue practicing love. l vow to  practice love freely in my life and in my business. Why? Because it feels good and I believe that passion leads to purpose. Or at least for me it does.
It's important to take time to reflect on your experiences in order to grow from them. My final advice is to simply, do what you love and love what you do.  And by all means,  do it with passion or not at all.
Now, I'd like to hear from you. What are you reflecting on this year? How have your reflections empowered you to do things differently in the coming year? Be sure and leave me a comment below. I'd love to hear from you.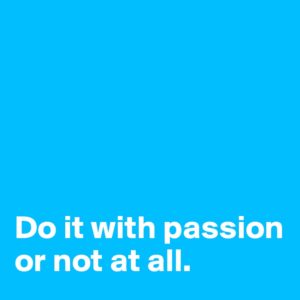 © 2017 Quality Media Consultant Group LLC – All Rights Reserved
This article was written by Lori A. Manns.  Want to use this article on your blog or website? Here's the author credit you must include.
Lori A. Manns is an award-winning marketing expert, sales coach and trailblazing business strategist who works with small business owners to help them elevate their brand, get more dream clients and grow revenue. Lori is President of Quality Media Consultant Group and founder of the Trailblazer Business Mastermind™ and Trailblazer Business Academy and where advancing entrepreneurs go to learn growth strategies and how to run a profitable business the soulful way. Lori is the creator of the Sponsorship Sales Secrets System™, which shows clients how to get more sponsors and sales for their business, guaranteed. To learn more about the work Lori does to help business owners and entrepreneurs all across the U.S. to accelerate their revenue and succeed in business, visit 
www.qualitymediaconsultants.com