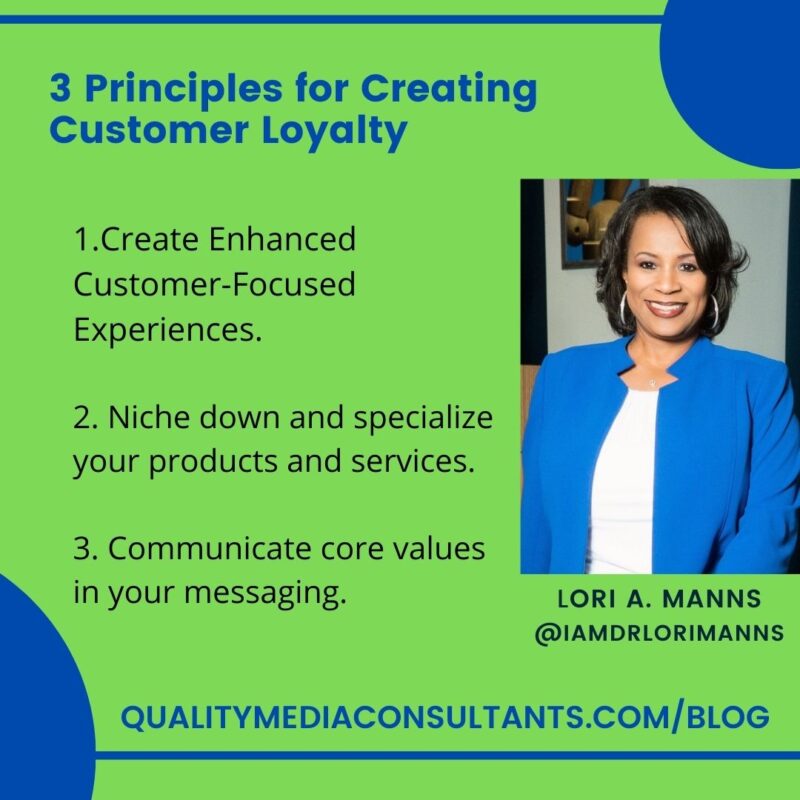 No matter what industry you're in, market saturation can be a real problem to navigate. In today's business world, standing out in a crowded marketplace is becoming increasingly difficult. The truth is competition can be overwhelming. However, one thing that remains paramount is making sure you have a loyal customer base. In order to create a loyal customer base, you must not only be among the best in your industry, you must also find ways to stand out.
Truthfully, it's not always easy to pinpoint how your business is different from those who offer the same or similar products and services that you do. Additionally, innovation is not enough to set you apart from others. You must learn how to identify your company's brand voice, stick with it, and communicate it in an authentic way that consistently attracts your target audience. Creating customer loyalty via various facets of business is a great way to stand out in a crowded marketing environment. Listed below are three principles for creating customer loyalty.
Exceeding customer expectations is necessary in a digital world.
1. Provide Enhanced Customer Experiences – There is nothing better than offering customers a unique experience that they will not find anywhere else. When businesses offer customers personalized services that cater to their specific needs, it is a win/win. The best way to provide an enhanced customer experience is to provide value to your customers based on the things that matter to them. If your customers value extended hours, free shipping, or bonus offers, give it to them plus some. This simple principle is not just about giving customers what they want, it is about over-delivering what they want and exceeding expectations.
When you focus on customer experiences, look for ways to personalize. Customers love to feel special. It's important to research your industry as well as the marketplace to understand the competitive landscape. From there, you must solicit information from your customer base to determine what's important to them. Check out more personalization tips from Hubspot.
There are riches in niches. Don't be afraid to narrow your focus.
2. Niche Down & Specialize Your Offers – Providing products and services for specific group of people with a specific challenge, problem, or need is a great way to specialize your offers. One of the best ways to obtain loyal customers is by making sure they understand that you/your company is highly specialized in a specific area. When you niche down your offers, it helps you to leverage your uniqueness as well as how different you are from your competitors.
You must be able to answer questions that distinguish from every other person or company who sells the same thing or something similar as you. Here are some questions you or your leadership team must answer. What do I/we do better than anyone else who does what I/we do? Of the people who do what I/we do, how is what I/we do different or unique? The key is to find the unique selling proposition that lies at the core of your products and services that allows your customers to clearly see the specialization factor.
If communicated effectively, your values will attract like-minded customers who share your beliefs.
3. Communicate Core Values – The truth of the matter is that in business, values matter. People don't just buy products and services; they also buy company values. Behind every product and service there is a company producing it. People want to know about the company, leadership and the core values of who they are doing business with. These days customers find it compelling to buy from companies that share their same core values. Once you have identified your company values, it's important to communicate them to the outside world. Your company values should be included in your branding and marketing messages. The old adage, "birds of a feather flock together," is especially true here. People will be attracted to your company based on your core values if they align with the core values they have as well.
As you can see, creating loyal customers has many advantages. Not only does customer loyalty result in repeat sales from your existing customer base, but it also creates raving fans who go out and share their experiences with friends and family about your business. The advantage here is that your company will benefit from organic, word-of-mouth advertising which is priceless.
Want to use this article for your blog or business website? Here's the author's box that you must include.
© 2023 Quality Media Consultant Group LLC – All Rights Reserved
This article was written by Lori A. Manns. President of Quality Media Consultant Group. Lori is a multi-award-winning marketing mentor, sales coach, and trailblazing business strategist who works with small business owners and entrepreneurs to help them grow and scale their businesses. She specializes in sales and marketing strategies that result in her clients attracting their target market, gaining brand visibility, and growing revenue. Lori is the President of Quality Media Consultant Group, a consultancy firm specializing in media, advertising, marketing, and sales. She is the founder of the Trailblazer Business Academy. where advancing entrepreneurs go to learn growth strategies and how to run a profitable business the soulful way. Lori is also the creator of the Sponsorship Sales Secrets.