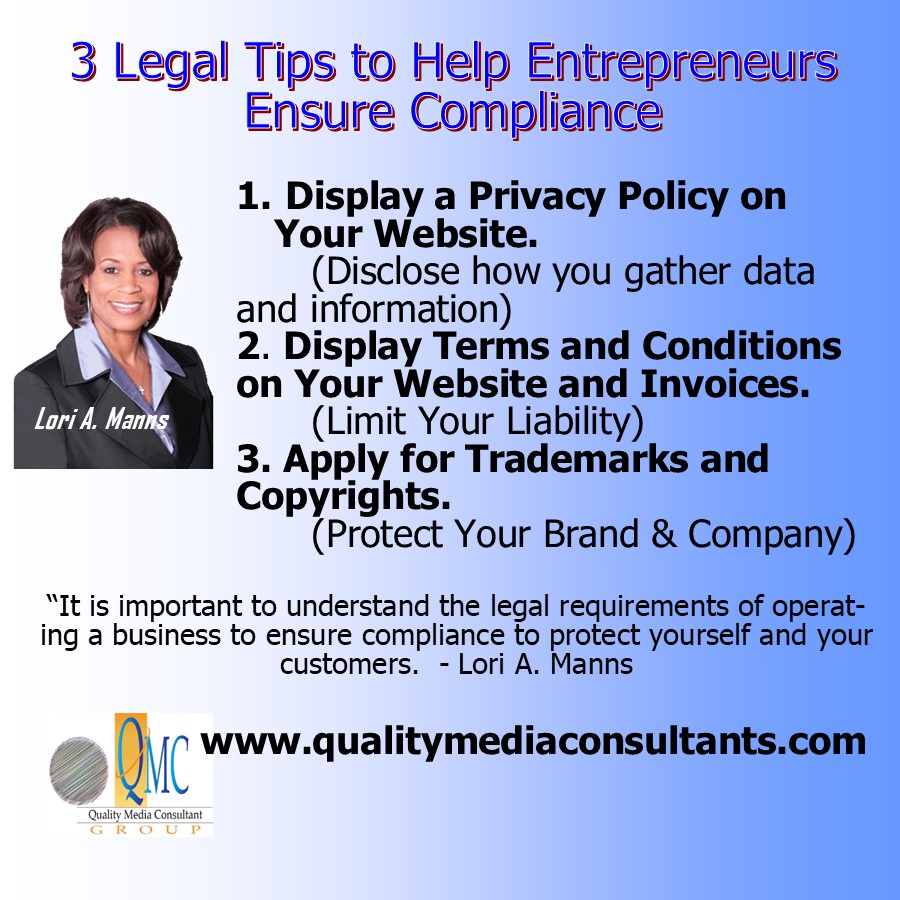 There are some legal precautions that every small business owner and entrepreneur should make to protect their businesses. Many business owners are not aware of the dangers and pitfalls that can arise simply by not following proper protocol when it comes to your online real estate, aka your website. Below, you will find a short list of items you should be concerned with when it comes to protecting your business and brand as far as legal matters are concerned.
A Privacy Policy is the legally required document to disclose your company's practices on protecting personal information of those people who visit your website.

 

There are legal policies you need to have on your website. Many entrepreneurs fail to realize that having privacy policy on your website is required by law. In order to protect yourself and comply with laws and regulations, you need to have a privacy policy displayed on your website. A privacy policy is also a thoughtful way to demonstrate to users that you can be trusted, and that you have procedures in place to handle their personal information with care. This article from HubSpot gives a great overview about where to start when creating a privacy policy for your website.
 Terms and Conditions are another valuable document that you must have on your website. These documents are important to  limit your liability (basically, they protect you from lawsuits and legal disputes). Undeniably the most boring page on your website will be the page where you outline the terms and conditions. However, these terms can limit your liability if a customer decides to file a lawsuit against you or your company. Although you are better off having terms and conditions listed on your website, you're not required by law to have this on your website. Nonetheless, there are some very good reasons why you would want to list your terms and conditions, anyway. Check out the top  reasons why, here from TermsFeed.
Copyright and Trademarks are a great way to protect your brand, company and any proprietary products or services you may have as well as intellectual property. A trademark also gives you leverage when it comes to protecting your brand identity. Your competitors will not be able to successfully copy or infringe upon a legal trademark or copyright.  Not protecting your company in this way is a mistake. If you want to protect  your company name, logo and other items, it's a good idea to get a registered trademark.  However, if you can't or don't want to trademark your business name, you still have options. According to state law, you still may have some protection if you have registered your business with the Secretary of State. You can get more information from this article on LegalZoom.
The bottom line is that if you operate a small business in the United States of America, there are certain legal matters you must take in order to protect yourself and your business.  If you have questions about any legal matters, it's best to consult with an attorney that specializes in business law.
This article was written by Lori A. Manns, President of Quality Media Consultant Group. Want to use this article for your blog or business website? Here's the author's box that you must include.
© 2021 Quality Media Consultant Group LLC – All Rights Reserved
This article was written by Lori A. Manns. President of Quality Media Consultant Group.  Lori is a multi award-winning marketing mentor, sales coach and trailblazing business strategist who works with small business owners and entrepreneurs to help them grow and scale their businesses. She specializes in sales and marketing strategies that result in her clients attracting their target market, gaining brand visibility and growing revenue. Lori is President of Quality Media Consultant Group, a consultancy firm specializing in media, advertising, marketing and sales. She is the  founder of the Trailblazer Business Academy. where advancing entrepreneurs go to learn growth strategies and how to run a profitable business the soulful way. Lori is also the creator of the Sponsorship Sales Secrets.