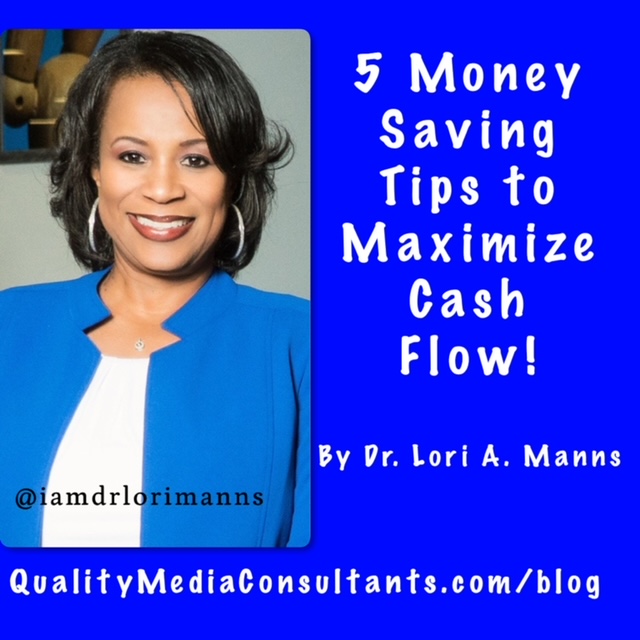 As a business owner, cash flow is priority number one. It doesn't matter if the economy is up or down, as the head of the company, you must make sure that sales are coming in and cash flow is desirable. One of the best ways to keep cash flow high is to decrease expenses wherever possible. Here are five money saving tips to help small business owners save money to optimize their cash flow.
1. Eliminate unnecessary subscriptions
If you have subscriptions that are billed automatically to your credit card, bank account or PayPal account it may be time to revisit them. Many times, we have subscriptions that were purchased on impulse, and we simply forget that the payment is being deducted from our checking account or billing on a credit card.
2. Choose Annual payments rather than monthly payments.
Whether it is a personal or professional account, paying one rate for the year is typically less than monthly installments. These payments come up even if you don't use the service anymore and will continue to be debited from your account whether you use it or not. For example: subscriptions to magazines, or memberships to paid newsletters, or monthly services you do not use.
3. Modify Contracts with freelancers or employees by reducing hours, decreasing workload, or negotiating better rates.
Sometimes, we are paying a set fee or a retainer fee for a contractor or freelancer and perhaps the contract may need to have modifications based on the workload. Perhaps securing a package rate may work out better than an hourly rate in some cases. Contracts and work agreements in which you can't prove a return on investment may need to be adjusted or cancelled.
4. Review professional services you've been paying for without shopping around.
No matter what industry it is, professional services are competitive. These types of services can be for home or business. Some examples of professional services may include auto/home/life insurance, accounting and bookkeeping services. Many times, you can request to have a bundle rate on insurance quotes with the same provider for maximum savings. Additionally, in the finance sector, accounting, bookkeeping, and legal services…are all professional services that you should shop around for competitive quotes on an annual or bi-annual basis. And it practically goes without saying that business support services such as website hosting and CRM services should also be reviewed annually to see if you are getting the most bang for your buck.
5. Examine membership dues with professional and social organizations.
When it comes to professional or social organizations, membership dues are typically required. As such, many people pay to be a member of organizations in which they are not active. It may be time to take notice of what return on investment that group or organization is providing for you or your career. Review whether or not you are active in the group or desire to be. If you are active in the group, then it is worth the price of admission. However, if you are not active, there is no point in wasting the money for membership. With memberships to groups and organizations, monthly payments might be costing you more than an annual one-time payment. For many professional organizations you can opt for annual billing and typically get a lower rate and save money.
Now that we've discussed ways you can save money to help your cash flow, let's discuss how you can manage your cash flow more efficiently.
Offer payment incentives to clients. When you offer incentives to clients to pay upfront, they usually do. Always communicate with clients what your payment terms are and the advantages of paying using the incentives you offer.
Forecast your cashflow. It's a lot easier to track the money you have collected when you keep track of when it comes as well as when you expect it to come. Keep track of dates and know the flow of your payments from your clients.
Send invoices on time so you can get paid on time. Remember if you take 30 days to send an invoice the client may take 30 days to pay that invoice. However, if you send invoices at the time of the contract, you may stand a better chance of getting paid earlier than most. Another option is to negotiate getting payment in advance.
Make regular deposits in your checking account. Most financial institutions have checking account options that require a certain amount of cash in the account at any given time. If you have direct deposits coming into your checking account, it will assist with your average daily balance and look good to the bank if you ever need to acquire a loan.
 Pay by check rather than using a credit card. Sometimes it makes sense to pay by check because it takes longer for the check to clear your account rather than the instantaneous deduction of a debit card or ACH transaction. Paying by check allows the money to stay in your account a little longer and therefore goes toward your average available balance.
Did this article help you think of ways to save or better yet, identify ways that you might be wasting money? Leave a comment and let us know.
Want to use this article for your blog or business website? Here's the author's box that you must include.
© 2023 Quality Media Consultant Group LLC – All Rights Reserved
This article was written by Lori A. Manns. President of Quality Media Consultant Group. Lori is a multi-award-winning marketing mentor, sales coach, and trailblazing business strategist who works with small business owners and entrepreneurs to help them grow and scale their businesses. She specializes in sales and marketing strategies that result in her clients attracting their target market, gaining brand visibility, and growing revenue. Lori is the President of Quality Media Consultant Group, a consultancy firm specializing in media, advertising, marketing, and sales. She is the founder of the Trailblazer Business Academy. where advancing entrepreneurs go to learn growth strategies and how to run a profitable business the soulful way. Lori is also the creator of the Sponsorship Sales Secrets.