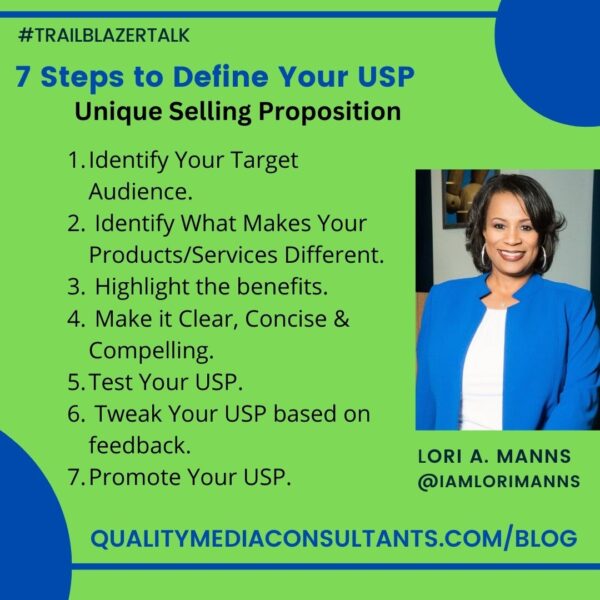 Being unique in business is somewhat hard to do. However, bringing a unique factor into business is a necessity these days. If you are the brand, you absolutely need to define your unique selling proposition.  For entrepreneurs selling a service, your unique factor is extremely necessary, you can read all about why you need a unique selling proposition here.
In business, being unique or different is called the unique selling proposition or a.k.a. unique value proposition. This is a sales and marketing term that basically refers to how you and your brand are different from your competitors. Knowing this vital information helps you to distinguish yourself and your company from others who do similar things or sell similar products and services as you do.
The categories that a business can peg its USP on are:
product characteristics
pricing structure
placement strategy (location and distribution)
promotional strategy
There are many companies that nail the USP in very effective and creative ways.  Below, I've highlighted a few to review.
Canva – "Empowering the World to Design"
Nike –  "Bring inspiration and innovation to every athlete in the world. If you have a body, you are an athlete."
Coca Cola – "Refresh the World. Make a Difference."
Shopify – "The platform commerce is built on."
As you can see these companies took creativity to another level. Each of the above USPs by Canva, Nike, Coca-Cola, and Shopify is clear, concise, compelling, and catchy too.  The key is learning how to outshine your competition so you can grow. Entrepreneur.com offers 5 ways to effectively outshine your competitors.
The world we live in is competitive, particularly in business. There's always going to be someone out there who does the same thing you do or something similar.
Here are your top three challenges when it comes to distinguishing your offerings from the competition:
1. Finding a way to stand out in a sea of sameness.
2. Knowing what is unique about you and your company, products, and services.
3. Knowing what problems you solve for your target audience and how your solution makes a difference.
It's vitally important that you find meaningful ways to communicate your value and your uniqueness so you can make it easier for your prospective clients and customers to choose you.
So the question becomes, "how should one define their uniqueness?"
Glad you asked. I have a simple framework to assist you in defining and articulating your unique selling proposition.
Here's my advice in 7 easy steps to build a powerful USP.
Step 1. Identify the Target Market. You must start with the "WHO". The "who" is your target market. Whom are you trying to reach and what do you want them to know about you, your product, or your service?
Step 2. Define the DIFFERENCE. You must tell the audience what is different or better about you as opposed to the competition. Always answer the question, why should they choose you not them?
Step 3. Highlight the Benefits of Your USP. Make certain to emphasize the benefits of working with you or buying from you. Be sure to point out all advantages of doing business with you.
Step 4. Make your USP Clear, Concise, and Compelling. Don't make people guess or try to comprehend the meaning of your message. Keep it simple, short, and sweet. Most of all, make it compelling and attractive.
Step 5. Test your USP. Once you have defined your USP, you should test it to determine if it resonates with the audience. If it does, you've got a winner. If it falls flat, you should go back to the drawing board.
Step 6. Tweak your USP. Once you have received feedback from your target audience, you should revise or make adjustments to your USP based on the information you have obtained.
Step 7. Promote Your USP. After you have fine-tuned your USP you must get it out there and promote it everywhere. Your marketing plan should include promotional strategies both online and offline to make sure your target audience knows how and why they should pick you, your products, and your services over the rest.
Now that you have my 7-step formula for creating a powerful Unique Selling Proposition to communicate your value, go out there and make sure the world knows. Tell everyone how your products and services are better and different than others, without sounding cocky but confident in your ability to deliver what you promise. Remember this, when you take a stand and stake a claim on what makes you unique, you will attract those who find your message compelling and irresistible…and that's what marketing is all about attracting the right tribe.
Are you having trouble connecting with dream clients, attracting your target audience, and getting leads? Do you need help articulating and defining your USP? Look no further. Let me help you. I'm a purpose pusher and people builder. I help purpose-driven entrepreneurs grow their businesses by teaching them to use their gifts, talents, and skillset to create brand visibility, attract dream clients, and increase profitability.
This article shares the basics of crafting your USP. However, many entrepreneurs need guidance to actually build a brilliant brand with a compelling USP and marketing message as well as learn how to promote it properly. Book a discovery call with me so we can discuss your goals and I'll help you get on the right track. Book a call.
Want to use this article for your blog or business website? Here's the author's box that you must include.
© 2022 Quality Media Consultant Group LLC – All Rights Reserved
This article was written by Lori A. Manns. President of Quality Media Consultant Group.  Lori is a multi-award-winning marketing mentor, sales coach, and trailblazing business strategist who works with small business owners and entrepreneurs to help them grow and scale their businesses. She specializes in sales and marketing strategies that result in her clients attracting their target market, gaining brand visibility, and growing revenue. Lori is the President of Quality Media Consultant Group, a consultancy firm specializing in media, advertising, marketing, and sales. She is the founder of the Trailblazer Business Academy. where advancing entrepreneurs go to learn growth strategies and how to run a profitable business the soulful way. Lori is also the creator of the Sponsorship Sales Secrets.